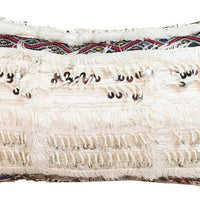 MOROCCAN HANDIRA CUSHIONS
A Handira known as a Moroccan wedding blanket, is woven out of sheep's wool, cotton and linen by Berber women in the Middle Atlas mountains of Morocco. Metal Sequins give them the characteristic "jingle". This Cushion is adorned with a multitude of sequins, signature Tassel tufts, and traditionally designed woven inlay strips intended to bestow protection on the wearer. This unique Handira cushion will add a touch of Moroccan glamour to your living room or bedroom. It makes an excellent original wedding present.

Size: 60 x 40 cm / 24 x 16 inches.

Material: sheep's wool & cotton, metal sequins
100% Handmade
No chemicals was used in the making of the pillows.

Our covers are sold without an insert.
Dry-clean only!

Please note:
Handcrafted cushion covers may vary slightly in their embroidery design and colour. No two are alike and the image featured is not the same pattern that will be delivered. Each are beautiful in their own design.
Feel free to email, call, DM or chat through our contact page for specific images to be sent directly to you before purchase.