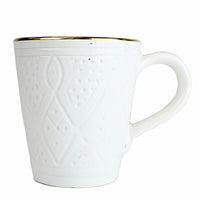 COFFEE MUG WITH HANDLES - WHITE GOLD (set of 2)
All our ceramic mugs are made handmade of white clay by Moroccan artisans and embellished with carved-in with beautiful motifs and accented with a ring of gold at the rim. The unique design embodies traditional craftsmanship and minimalistic Berber design. The mug is completely glossed to prevent stains and damages. Food safe and lead free, it is perfect as housewarming gifts or for any chic households.
Fabrication : handmade & hand painted in Morocco
Material: white ceramic, lead-free paint, GOLD 12 CARATS

Features: food-grade ceramic and dishwasher safe

Dimensions : D10* H11,5cm with handles

We strive to preserve Moroccan craft culture with our products by supporting local artisan groups, encouraging authentic designs and skills.